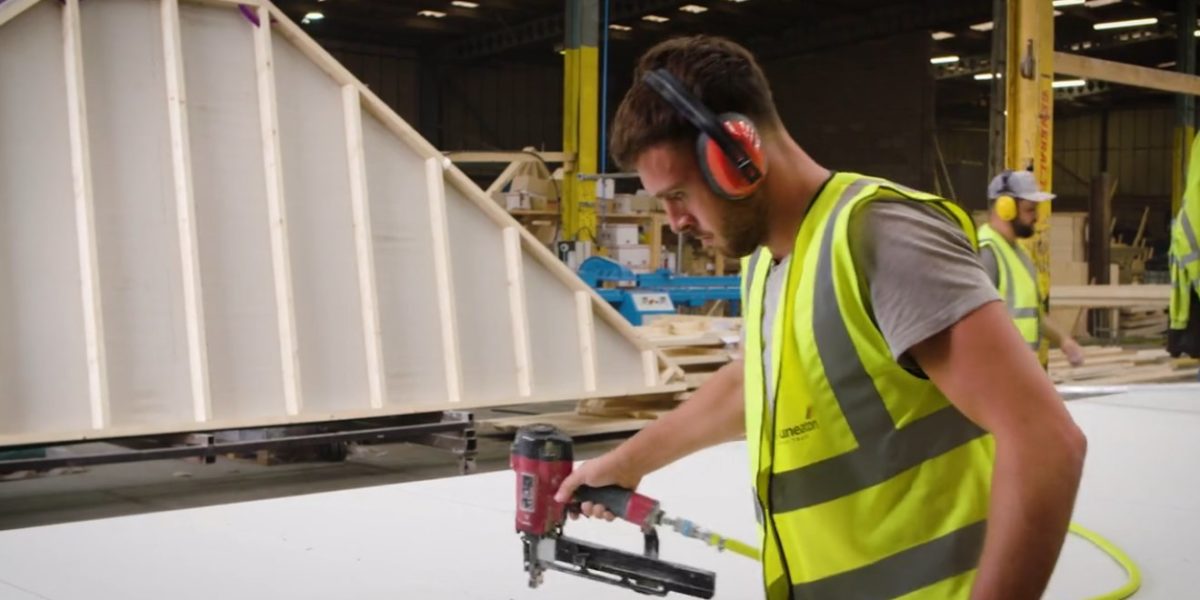 Expert roof truss manufacturer Nuneaton Roof Truss is your first choice for trusses, metalweb floors, spandrel panels and gable panels.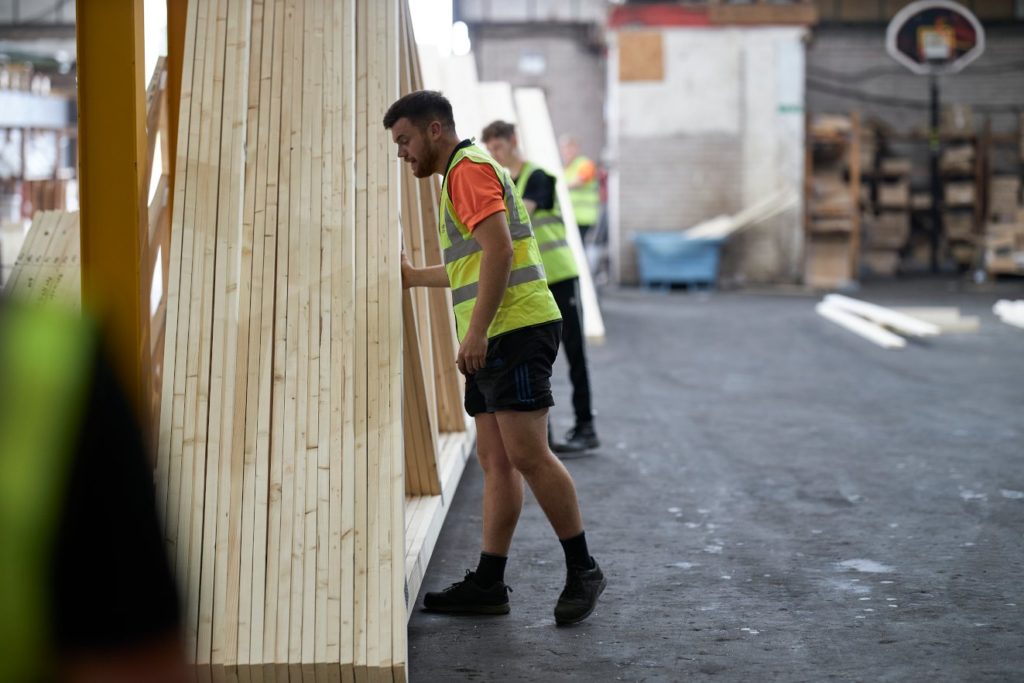 Nuneaton Roof Truss is a leading independent supplier of trusses, spandrels, and engineered timber for UK housebuilders, but did you know that we started as a small family business and have grown to become the largest independent manufacturer of roof trusses in the UK?
It all starts with a design. Our highly-skilled designers created detailed plans for housing developments using CAD software MiTek Pamir. Pamir, the industry-leading roof truss and Posi-Joist design system, combines layout, engineering, output and 3D tools into a single fully integrated application, making it the 360-degree tool for roof truss design and visualisation.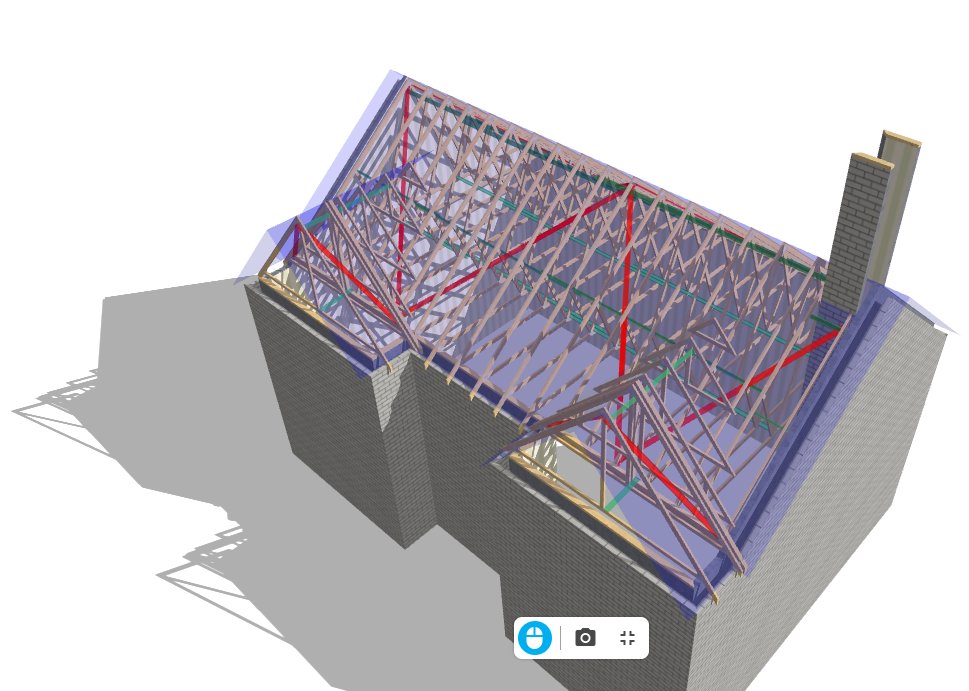 When it comes to manufacturing, our operations are no less high tech. Manufacturing equipment including automated Hundegger CNC joinery machines and an AV Birch Uniroll floor beam press, allows us to speed and optimise production on the factory floor.
Round the clock manufacturing
When we start, we don't stop until the job is done. In response to growing demand, in 2022 Nuneaton Roof Truss stepped up a gear by inaugurating 24/7 manufacturing. Adding a night shift to our operations was facilitated by the increased automation possible thanks to intelligent machinery delivering. It has brought clear economic advantages including shortened lead times, which become apparent with continuous operations, giving us – and you – a competitive advantage.
Delivery doesn't stop either: getting trusses delivered to your site takes just a fortnight from the signing off of a final design. No matter where you are, our drivers will ensure your delivery arrives exactly when you need them.
Sales manager Josh McEwan explained that for Nuneaton Roof Truss, meeting the demands of housebuilders all over the country was their bread and butter.
"Rapid delivery to the entire country is as important to us as our rapid and accurate manufacturing process. We want to meet our customers where they are, whether that is in terms of meeting their design needs or literally getting products out to their sites as smoothly as possible,"

Josh, Sales Manager
Investing in people
At Nuneaton Roof Truss, we combine our commitment to our customers with an equal one to our own people – and to our local area. Our continued investment means not only purchasing the best and most productive equipment on the market, but also creating high-skilled jobs in the Warwickshire area.
In addition, as a wellbeing measure, Nuneaton Roof Truss instituted a shorter working week policy this year. While our operations now run 24-hours a day, seven days a week, we took the decision to shorten our Friday day shift for both office and factory-based staff. The result has been a 15% increase in productivity.
Our apprenticeship scheme meanwhile, is a demonstration of our commitment to the future. By taking on apprentices for roles in both production and administration, Nuneaton Roof Truss is committed to building the skills to build a better tomorrow in Nuneaton, the Midlands and the UK as a whole.
Sustainable from start to finish
We also care for the world around us. As the UK works toward its net zero commitments, Nuneaton Roof Truss is playing its part not only through our products but also by reassessing our own processes.
Our wood, wood products, and non-timber forest products are PEF certified, guaranteeing they have been sourced from sustainably-managed forests and have been manufactured with due respect for workers' rights. Our BM TRADA certification provides independently-verified assurance that the wood we use originates from responsibly sourced forests and that the material has been tracked through every stage of the process from forest to end-user. So not only is timber a natural product, but Nuneaton Roof Truss uses only sustainably-sourced timber in the production of our roof and attic trusses, floor joists and spandrels – and we have the certification to prove it.
We are currently in the process of getting an Environmental Product Declaration (EPD) certification, which will be another feather in our cap and measures the entire lifecycle of a product. In this area, timber cannot be beaten. Forests are a natural carbon sink removing harmful emissions from the air but beyond that, timber as a natural material, involves less energy in its production than synthetic materials. As a result, timber, when sustainably sourced, is one of the most environmentally-friendly materials available, being truly renewable.
Internally, we are charging forward with renewable energy. In 2020, we took a major step forward, actively making changes to our business operations to become a more sustainable and eco-conscious company. We installed biomass boilers: two Froling T4e wood chip boilers and a Viessmann Vitoligno 250-S wood gasification boiler, which reduce the carbon footprint of our factory by being fuelled by our own offcuts.
On top of this, we were awarded FORS Silver accreditation last year, a standard for monitoring fleet, including reducing environmental impact. This year we added electric cars to our fleet along with charging points, something that will only continue as we replace older vehicles.
Josh McEwan sums it up: ultimately, Nuneaton Roof Truss is a success because we love what we do.
"People should choose Nuneaton Roof Truss because we really do care. Our lead time is only two weeks, which is unbeatable in the market, and as well as that our sustainability is second to none. Some of the stuff we do is really complex and bespoke, so when you see it going from simple roof truss drawings or floor drawings to actually going out on the lorry to the customer it's great,"

Josh, Sales Manager
Why choose Nuneaton Roof Truss
Nuneaton Roof Truss is the manufacturer of choice for all of your structural and engineered timber requirements. Whether you're planning one house or many, housebuilders and construction firms all over the UK put their trust in us. If you're interested in our industry-leading, eco-friendly services, click here to get a quote or call us on 02476 327722 to find out how we can support your business and projects.
Please follow and like us: