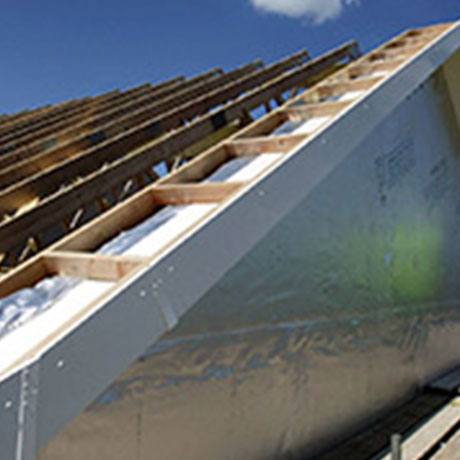 What are Spandrel Panels?
Spandrel panels are pre-assembled structural timber panels clad with OSB board and plasterboard. They are used as separating walls or as an external gable wall panel.

A typical spandrel panel consists of 2 plasterboards on each face of a base truss.

Advantages of using Spandrel Panels
A spandrel panel helps save time as it replaces the need for conventional masonry construction. They also provide excellent performance in both sound and fire ratings when manufactured to robust details (compliance with new home minimum sound installation standards).

Traditional brick gable ends are open to the elements and cannot be constructed during certain weather conditions. This could mean delays to jobs or high-risk health and safety issues.

Nuneaton Roof Trusses spandrel panels are manufactured with factory fitted slings which make it easy to install as they can be craned into position. The benefit of this is that you don't need to add an extra lift of scaffolding reducing costs of both labour and scaffolding.
All of our spandrel panels are fully designed and manufactured in house to your required specifications. They can be delivered along with roof trusses as part of our roofing package. If you require any further information get in touch on +44 (0) 2476 327722.

Please follow and like us: