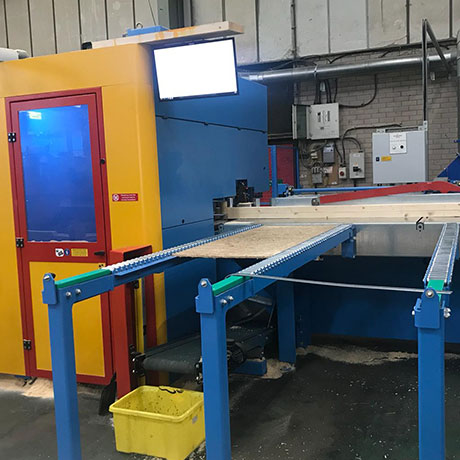 Due to the growth our of business and our overall goals of investing in the latest technology to improve efficiency and quality. We've added a Hundegger Saw SC-3 to our manufacturing process.
What is a Hundegger Saw SC-3?
The Hundegger Saw is a machine which is programmed using CAD designs which can make cuts to timber in various methods using a multitude of tools. For example, it can make precise angled cuts using a circular saw or it can accurately rout out places for parts to sit.
Due to it being a modern machine it's connected to the network so that certified Hundegger technicians can log in remotely to fix any issues. This can eliminate downtime quickly so that production can restart as soon as possible.
How does it help Nuneaton Roof Truss?
The Hundegger Saw SC-3 allows us to manufacture different parts of the roof truss quickly and efficiently. Instead of having multiple areas with various different tools, this machine does a multitude of cuts.
Due to the power of the saw, we can often run multiple pieces of timber through at the same time (depending on the particular cut). This again helps increase our production outlay.
For a business perspective, this minimises the need for additional labour and various other equipment. It's also extremely fast which allows us to produce roof trusses at great turnaround times. This allows us to make good quality products at a competitive price point.
Working towards our future
Adding machines such as the Hundegger Saw can greatly improve our manufacturing capabilities. As a business, we're always looking at ways in which we can increase production speeds whilst maintaining the best quality.
If you have any enquiries about the manufacturing of roof trusses, please don't hesitate to get in touch by calling 02476 327722.
Please follow and like us: