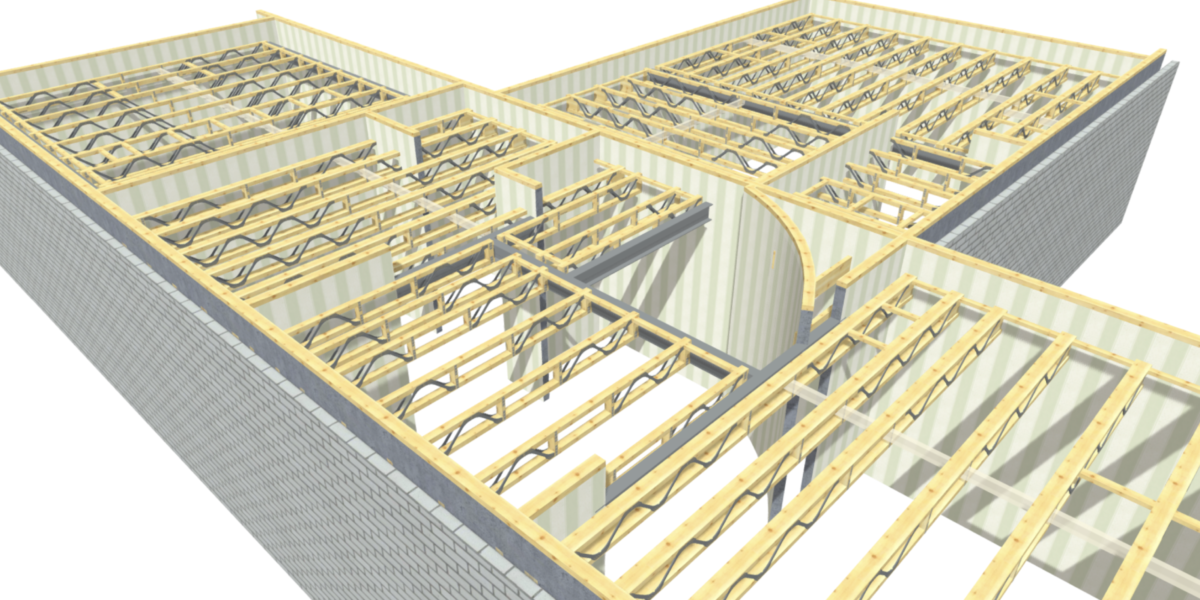 Posi-Joists, also known as metal web joists or open web joists, are structural components that combine the best of both worlds – the lightness of timber and the strength of the Posi-Strut steel web. The result is a flooring and roofing system that goes beyond the limitations of traditional timber products, providing design freedom and a multitude of cost-saving advantages.
Spanning Greater Distances for Design Freedom
Posi-Joists break free from the constraints of traditional timber products by allowing for the spanning of significantly greater distances. This capability provides architects and builders with design freedom across various applications, from residential to industrial and commercial projects.
Flexible Room Layouts with Clear Spanning Capabilities
The clear spanning capabilities of Posi-Joists enable the creation of internal room layouts that are both flexible and adaptable. This allows architects to design interiors that perfectly match the vision for the space while maintaining an external shell.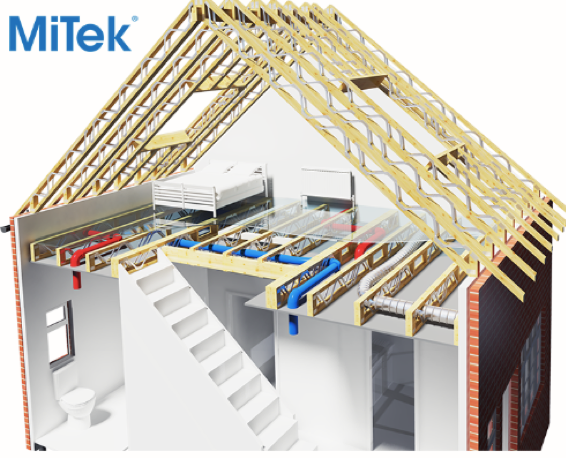 Simplified Installation and Maintenance of Services
One of the main advantages of the Posi-Joist system is the ease of access it provides for the installation and maintenance of essential services within the floor zone. With the increasing demand for Mechanical Ventilation and Heat Recovery (MVHR) systems, Posi-Joists offer a solution that is simply unattainable with solid timber alternatives.
Cost Savings Through Efficiency
While an initial linear metre cost comparison with solid joist alternatives may suggest otherwise, Posi-Joists bring substantial cost-saving advantages to the table:
1. Reduced Material Content:
The impressive span capabilities of Posi-Joists often allow for increased joist centres compared to alternative systems. This reduction in material content not only contributes to cost savings but also aligns with sustainability goals.
2. Streamlined Installation of Services:
Posi-Joists simplify the installation of services and utilities, resulting in reduced labour costs and a shorter build-up time on-site. This increased efficiency is a benefit for both contractors and project timelines.
3. Offsite Manufacturing for Quality Assurance:
Posi-Joists are manufactured in a controlled offsite environment, ensuring a consistently high-quality product. Moreover, they are delivered 'made to measure,' facilitating speedy assembly. In many cases, Posi-Joists eliminate the need for load-bearing intermediate walls, significantly reducing overall building costs.
Exceptional Floor Performance and Ease of Work
Posi-Joists deliver exceptional floor performance thanks to their wide fixing surface. This not only simplifies flooring but also controls shrinkage and minimises the need for return visits and remedial work.
The unique open web design of Posi-Joists creates a convenient work area for Plumbers, Electricians and MVHR Contractors. Jobs are completed quicker and contractors can realise significant savings in the process.
Why Choose Nuneaton Roof Truss for Your Posi-Joists?
At Nuneaton Roof Truss, we go the extra mile to ensure that your construction projects benefit from the advantages of Posi-Joists to the fullest. With our Mitek design platform, we can take your floor plans and create a customised floor layout that perfectly aligns with your requirements.
Our designs adhere to EC5 standards, ensuring safety and compliance and offer competitive pricing without compromising on quality. Undergoing rigorous quality control processes, our offsite manufacturing environment guarantees consistent, high-quality products, delivered 'made to measure' for swift assembly on-site.
Our Posi-Joists are engineered to provide exceptional acoustic performance and with fire test certification for 30, 60 and 90 minutes, they ensure compliance with stringent safety standards.
We provide comprehensive support throughout your project, ensuring that you have all the information and assistance you need to make your project a success.
Contact us for your next project.
Please follow and like us: