With efficient design and manufacturing processes and nationwide delivery, Nuneaton Roof Truss redefines standards for builders right across the UK.
House building is a complicated process where time is money and delays can have serious and unwanted knock-on effects. House builders know this, and it is one reason why so many come to us to ensure smooth, problem-free delivery.
We use high-quality sustainable timber in our products, supplying house builders nationwide, from small independent contractors to national construction companies. Not only delivering a range of roof, truss, spandrel panels and treated timber that support a wide variety of innovative, sustainable projects, we pride ourselves on fast turnaround from design to delivery.
Discover the highly optimised three-stage process developed by Nuneaton Roof Truss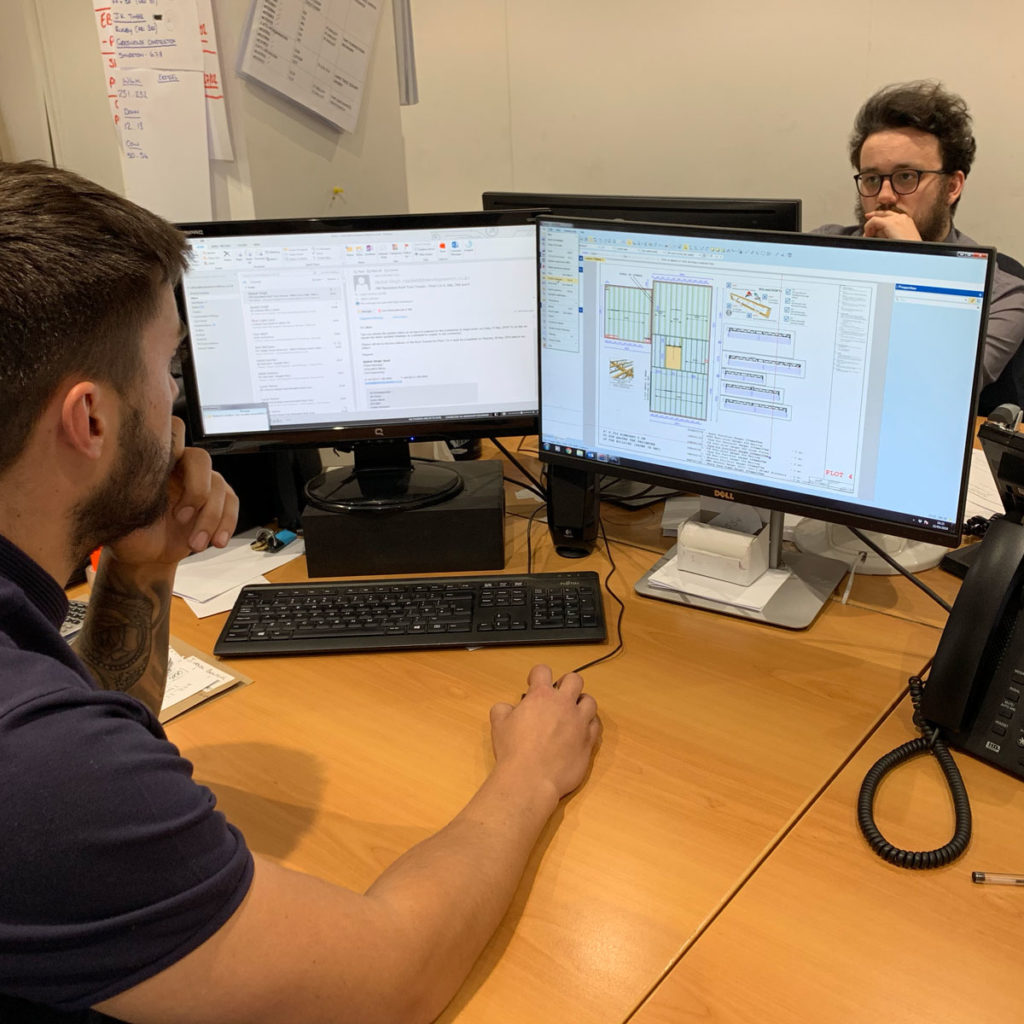 Planning and design

We know how important it is for sites to run smoothly and that the correct product is on site at the required time, so we use MiTek Software Business System to manage the process. Once we receive an enquiry, we return a quote within a maximum of ten working days, if not faster. After an order is placed we immediately proceed to design drawings, and once approval is gained planning for manufacture begins. Posi-Joists and roof trusses can then be manufactured once our designs have been approved.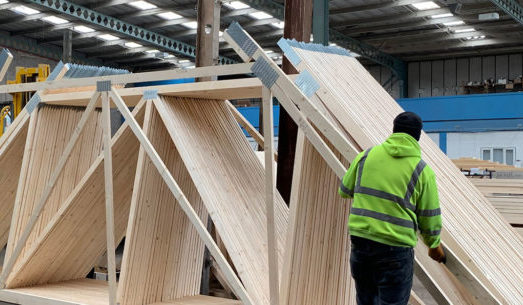 Production
Next, our 30,000 sq. ft. factory jumps into action, manufacturing the bespoke products. Our skilled team works using state-of-the art tools, including a Depauw saw and the UK's first Stavelse press, alongside truss jigs and saws to ensure accurate production down to the millimetre. Designs are transferred from MiTek and Pamir design software to factory equipment for accurate cutting and pressing.
Dispatch and delivery
We keep customers updated throughout production, and agree on a mutually convenient time for us to deliver to site. We also meet customer's specific needs: either rigid or artic vehicles can be used to accommodate particular delivery guidelines, while our 'site pack' provides comprehensive details on unloading, both mechanically and manually. Our drivers are fully-trained and equipped to go on-site and we regularly audit our contracted hauliers. In addition, while we keep any packaging to a minimum to avoid additional waste on site, we follow required EUTR standards on protection. Trusses are banded with inappropriate truss marks, dependent on weight. Loose timber is also banded and marked clearly by plot, and metalwork supplied in clearly marked strong nylon bags.
Rapid turnaround
Accuracy, efficiency and effectiveness are our goals. With our easy access to the M1, M5 and M6 we pride ourselves on getting your orders to the site. This way, your work can go on, free of costly delays and logistical logjams.
"We have invested in the technology and skills to meet house builders' needs builders' nationwide, and take real pride in our ability to get from drawings to delivery in just seven days."
Josh McEwan, Sales Director, Nuneaton Roof Truss
With two decades of experience, Nuneaton Roof Truss has long focussed on its goal of becoming the UK's number one independent supplier of trusses and joists. Today, our laser-like focus is on remaining at the top by meeting your needs, no matter how complex.
Why choose Nuneaton Roof Truss?
Nuneaton Roof Truss is the manufacturer of choice for all engineered timber requirements. Whether you're planning one house or many, housebuilders, and construction firms all over the UK put their trust in us.
If you're interested in our industry-leading, eco-friendly services, click here to get a quote or call us on 02476 327722 to find out how we can support your business and projects.
Please follow and like us: