Having worked in the roof truss industry for around 10 years, Sarah Ely, the General Manager of Nuneaton Roof Truss brings a wealth of expertise to the role. She has worked across various departments, from accounts to manufacturing.
Sarah's passion for sustainability aligns perfectly with the Nuneaton Roof Truss vision and she's determined to help them grow on their already excellent progress.
We had a chance to speak to Sarah and she shared her insights, challenges, and advice for women aspiring to excel in the construction industry.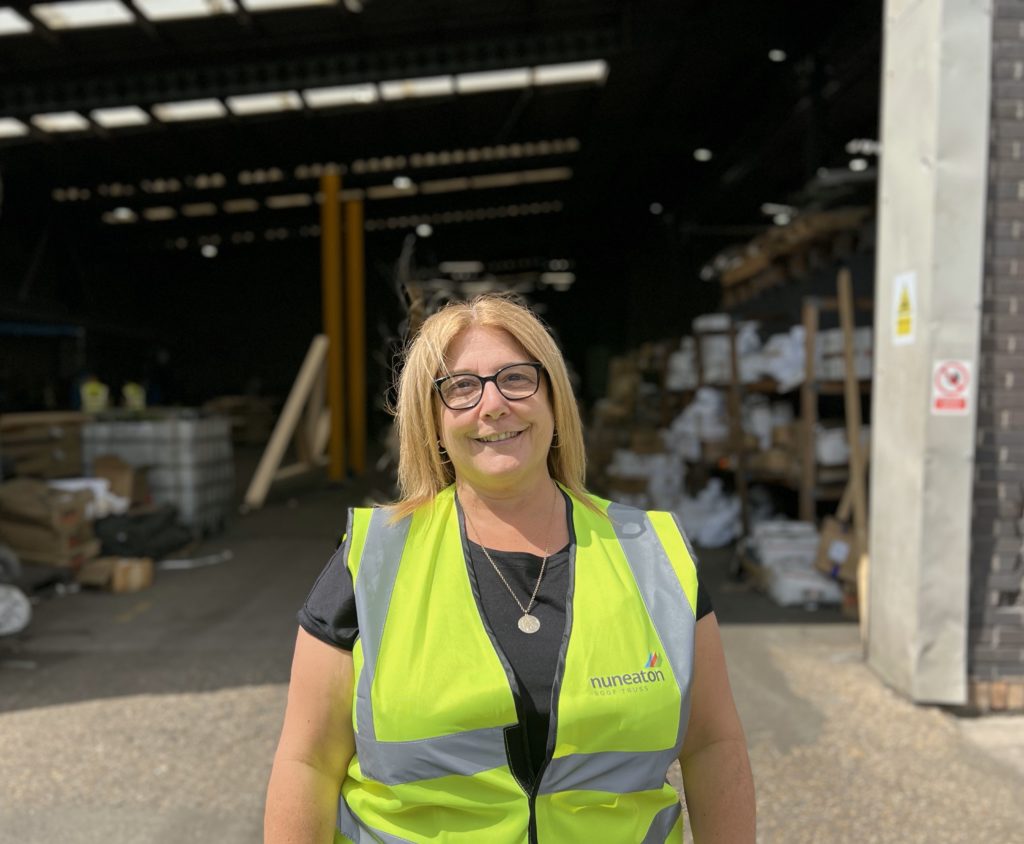 Name:
Sarah Ely
Job Title:
General Manager
When did you start at Nuneaton Roof Truss?
May 2023
What led you to Nuneaton Roof Truss, and what experiences shaped your journey here?
"I joined Cambridge Roof Truss in 2015, which later became Donaldson Timber Engineering, and since then, I've had a 10-year journey in the roof truss industry. Starting from accounts, I moved to the commercial side of the business and eventually found my way into manufacturing.
Now, with Nuneaton Roof Truss, I'm looking forward to bringing my expertise and contributing to the growth and success of the company."
What's the most enjoyable part of working at Nuneaton Roof Truss, and what keeps you passionate about your job?
"Working at Nuneaton Roof Truss is like being part of a big family. The team here is fantastic and they made me feel at home from day one. I couldn't have asked for a better group of people to work with. We all watch out for each other, and that makes the work environment supportive and enjoyable.
I also feel valued here, it's a place where I can grow, learn, and contribute to something meaningful. Nuneaton Roof Truss is a family run business, and I'm grateful to be a part of it."
How do you plan to make a positive impact in your new role?
"Nuneaton Roof Truss is doing really well with sustainability and efficiency, and I want to help build on that momentum. We're exploring the introduction of electric forklift trucks at the moment. By doing so, we can reduce our carbon footprint even further and contribute to a greener approach and our net zero target.
Building relationships with customers is also really important to me. It's also at the forefront for Nuneaton Roof Truss so we align really well. We offer a personal touch to any project we work on, whether that's a national house builder or someone requiring a simple house extension."
Could you tell me a little bit about your role. What would you say a typical day looks like for you?
"A typical day would be walking round the factory, checking all the Health & Safety, as well as making sure that all the production is running smoothly and checking in with all the team members. I also help the production team if needed in regard to capacity and helping customers. I was making a roof truss with them a couple of weeks ago!"
What do you feel is the biggest challenge of being a woman in the construction industry?
"As a woman in the construction industry, overcoming gender stereotypes and biases has been a significant challenge. I'm fortunate to be part of Nuneaton Roof Truss, they are an inclusive company that celebrates diversity and provides equal opportunities for everyone."
Do you have any advice to give to other women looking to get into the timber engineering industry?
"My advice would be to stay determined, work hard and never give up on your dreams. The timber engineering industry has been male dominated, but women are showing how it is possible to succeed in this field."
At Nuneaton Roof Truss, we commit to supporting an inclusive workplace that celebrates diversity and provides equal opportunities for all, including supporting and empowering female professionals in the construction field. Contact us to find out more.
Please follow and like us: