At Nuneaton Roof Truss, we offer long term career progression. Find out how one of our production operatives is now retraining to join our expert design team.
Our programme of investment at Nuneaton Roof Truss, which in 2022 alone has included new production equipment and our new bespoke offices, isn't just about capital spending. We also invest in our people.
For us, a focus on the future is key. In order to support our customers, who over the years have come to expect nothing less than top quality design services and production, Nuneaton Roof Truss's continued investment programme is intended to incrementally improve our output from the drawing board to your site.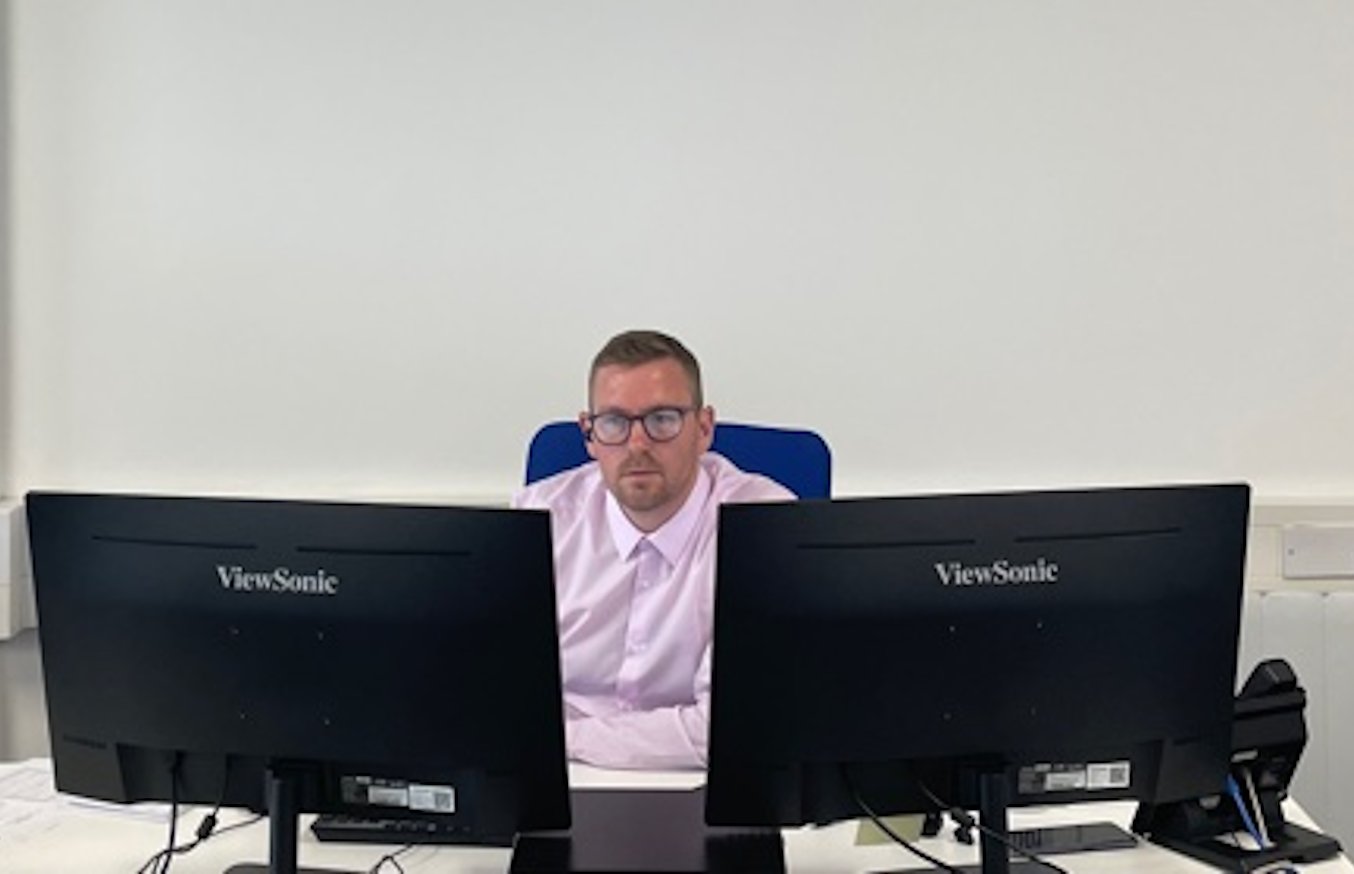 One of the first measures we took was to institute a policy of early closing on Fridays as a measure to promote staff well being. Now, our new offices offer a calmer and more pleasant atmosphere for our design team.
But it doesn't end there. Staffing matters, too. Here at Nuneaton Roof Truss, we have always placed a premium on training, including by offering apprenticeships that give young people a career start in valuable skilled trades. There are always opportunities to move within the company, too – including by retraining to take on new challenges. This is what the newest member of our design team, Scotty McEwan, is now doing.
Having worked for Nuneaton Roof Truss in a production role, Scotty is now based in our new offices where he works as an trainee on our design team. Scotty wanted to make the transition to office-based work and we as a company always do our best to provide opportunities to grow and develop.
"I've been working on the factory floor for 20 years, so this is a big change for me," said Scotty.
Our designers use industry leading MiTek Pamir, the industry-leading integrated CAD software for roof truss, wall panels and Posi-Joist design. Naturally, a big part of Scotty's job is learning its ins and outs. However, coming from the factory, he has an intimate understanding of our processes and brings this knowledge to the table as a designer.
For Scotty, moving to design is a real change of pace as the job is necessarily very different from his previous position. However, at Nuneaton Roof Truss we work as one big team with the sole goal of delivering quality roof trusses and other timber products to our customers, so there is a direct line of continuity from our design process through to delivery of the final product.
"Scotty started off making roof trusses and floors, as well as learning how to use saws, before eventually moving to spandrel panels later down the line. He can do every job in the factory, which is fantastic experience for this job," said sales manager Josh McEwan.
On top of that, learning new skills is always an engaging process.
"It's a new challenge, which really is exciting," Scotty said.
Please follow and like us: