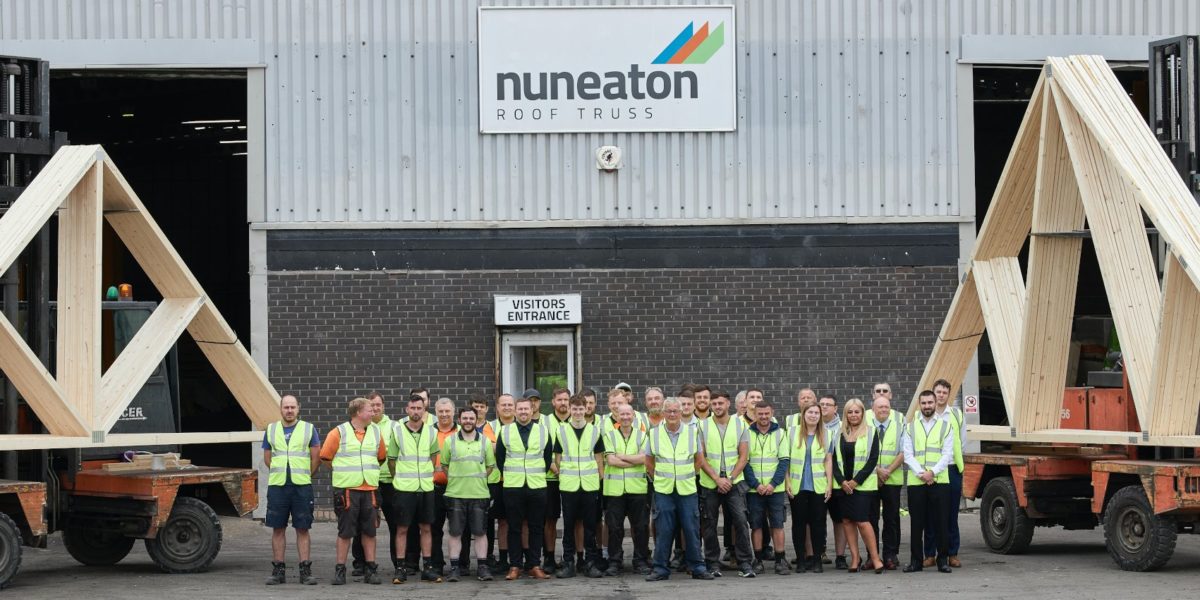 Nuneaton Roof Truss is powering forward with continued investment driving the growth of our business.
In 2022, Nuneaton Roof Truss grew from strength to strength. The year has seen us meet challenges and continue to expand our business, and we want to deliver for you.
As the construction industry recovered from the Covid-19 pandemic it was immediately beset with new problems, from supply chain crunches to see-sawing commodity prices. Despite this, the sector as a whole has worked hard to get Britain moving again. In this, Nuneaton Roof Truss is no exception.
Now it is time to drive our business forward by taking things to the next level.
How we have grown
Founded in 1999, Nuneaton Roof Truss has grown far beyond our roots as a local and regional supplier, now providing trusses and other timber products not only to our stalwart customers in the Midlands, but also expanding to supply renowned national housebuilders.
As part of this expansion, we have invested extensively. In the past year alone, we have purchased and installed sophisticated production equipment such as CNC joinery machines from Hundegger as well as an advanced press. As part of our commitment to sustainability, we also added electric vehicles to our fleet, something we expect to continue to do in the future. In addition, we opened our new bespoke offices, which play host to our design, administration and management teams.
Our working practices developed to increase output as well. From a shorter but 15% more productive working week, to 24-hour operations and we now deliver in just ten days from the final sign-off of designs.
As a growing business, we are excited to meet our customers' demands for expertly-designed and precision manufactured timber products. Nuneaton Roof Truss sales manager Josh McEwan said that this was what sets us apart.
"The growth of our business isn't just about us. It's about delivering for our customers who are building quality homes all around Britain,"

said Josh.
Why choose Nuneaton Roof Truss?
Nuneaton Roof Truss is the manufacturer of choice for all your truss and engineered timber requirements. Whether you're planning one house or many, housebuilders, and construction firms all over the UK put their trust in us. If you're interested in our industry-leading services, click here to get a quote or call us on 02476 327722 to find out how we can support your business and projects.
Please follow and like us: